Find more information on the website of the new project:
"World Heritage Earth – Our Common Future"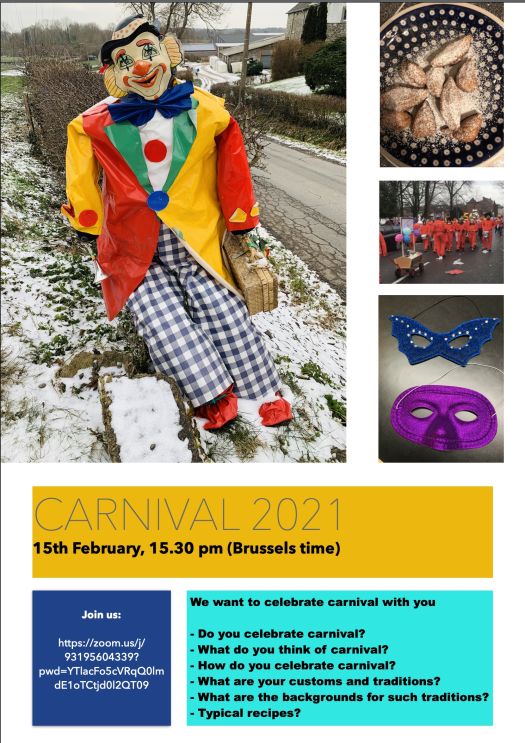 Carnival 2021
Join us !!!
the 15th February 2021
Friday, 5th of February 2021 14.00 (Brussels time)
Stay together: We are looking forward
https://zoom.us/j/93195604339?pwd=YTlacFo5cVRqQ0lmdE1oTCtjd0l2QT09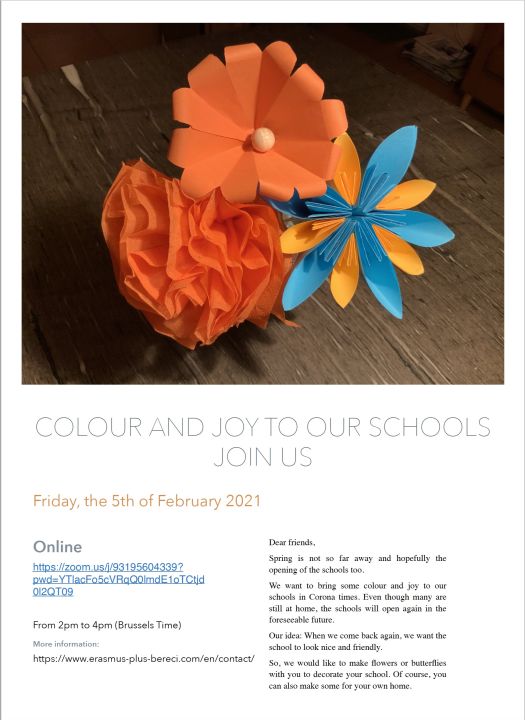 Bring Calour and Joy to our schools
Dear friends,
Spring is not so far away and hopefully the opening of the schools too.
We want to bring some colour and joy to our schools in Corona times. Even though many are still at home, the schools will open again in the foreseeable future.
Our idea: When we come back again, we want the school to look nice and friendly.
So, we would like to make flowers or butterflies with you to decorate your school. Of course, you can also make some for your own home.

We will meet online:
Friday, the 5th of February, from 14.00 to 16.00.
We need:
- Square coloured paper, not too thick. If possible, use origami paper
- Plain napkins
- scissors
- glue
- Beads (alternatively small paper balls)
- pen
- floral wire or rubber rings
- !!!! a lot of fun

We are looking forward to seeing many of you and sending us lots of beautiful flowers and butterflies.

Please upload your result to:
https://padlet.com/steinel_schrenk/cmzi9l5qlwsxn08j
28th of November 2020, 14.00pm: https://inda-gymnasium.adobeconnect.com/rdrk697ov2wn/
Stay together: Christmas traditions
Dear friends,
Winter time and Christmas time is coming and w would like to come together in a virtual exchange and to create a Christmas tree. Each participant for herself/himself or for the school. You need paper not so strong, thick pencils, pins or tape. As you can see, you make hands on paper and you cut them out. Write your name on it and the names of everyone who will participate. One hand for everyone.
There is still some decoration missing. For this we would like one of you to show us what you like as homemade decoration and show us how to make it.
New ideas are welcome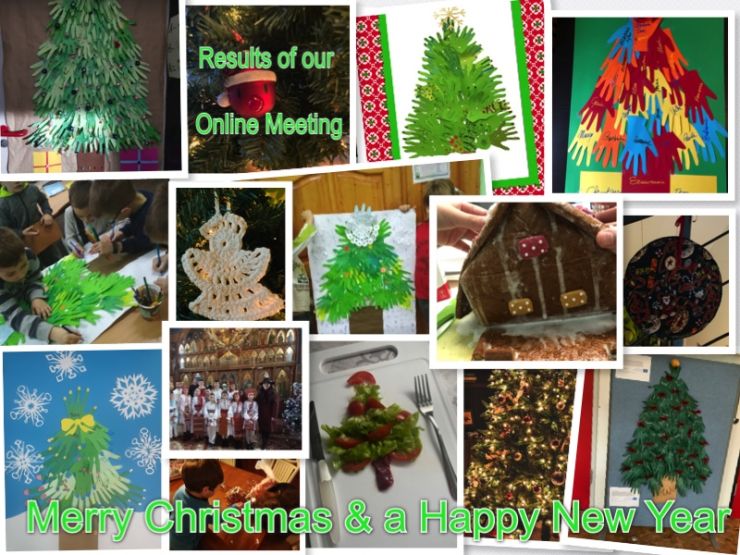 It was a really nice event: Christmas Traditions.
Enjoy all your work